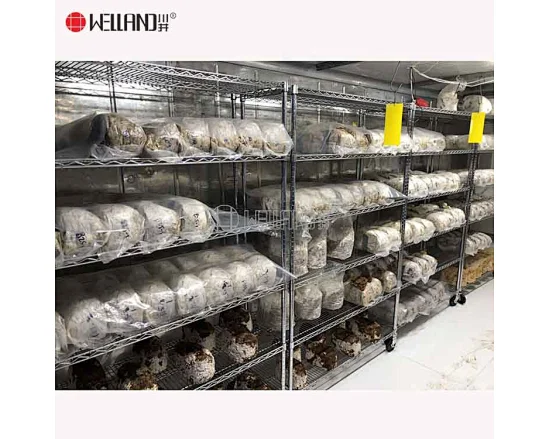 Wide Using 6 Tiers Chrome Mushroom Growing Shelves
Professional Mushroom Growing Shelves Manufacturer and Supplier, Japanese Quality Standard, NSF Certified Factory Since 1996, Top 10 Brands in China.
6 tiers chrome mushroom growing shelves
6 Tiers chrome metal wire mushroom growing storage shelves are mainly used in supermarkets, department stores, daily necessities, promotional items, offices, factories, mushroom

growing

rooms, medical care, etc.

After treatment, the surface finish of the chrome-plated shelf has a significant increase in brightness, which is always new, and is more environmentally friendly, beautiful and durable, and not easy to rus.

The specification is complete, the variety is wide and can be produced on demand.

6 tiers chrome shelves is unique structure, carbon mesh surface, strong and durable.

The open design allows continuous air circulation and reduces the accumulation of dust on the surface. The stored goods are clear at a glance, which is convenient for inventory.

The combination form can be changed according to different environmental needs, and countless wire shelves series can be freely combined with different accessories, flexible and easy to install

The height of each layer of mesh can be adjusted at will, and the maximum load-bearing capacity is 350KG per shelf.
Specifications of mushroom growing shelves :
1) Item No.:

HD184872A6CW

2) Article:

6 tiers chrome metal wire mushroom growing shelves

3)

Dimensions (L x W x H):

L48"X W18"X H72"

4) Materials:

Carbon steel

5) Post dia:

25X1.2 mmt

6) Surface finish:

Chrome

7) Loading weight:

350 kgs (800lbs) per shelf