The Role of Wire Shelving System in Warehouse Storage
author: lucky
2022-04-21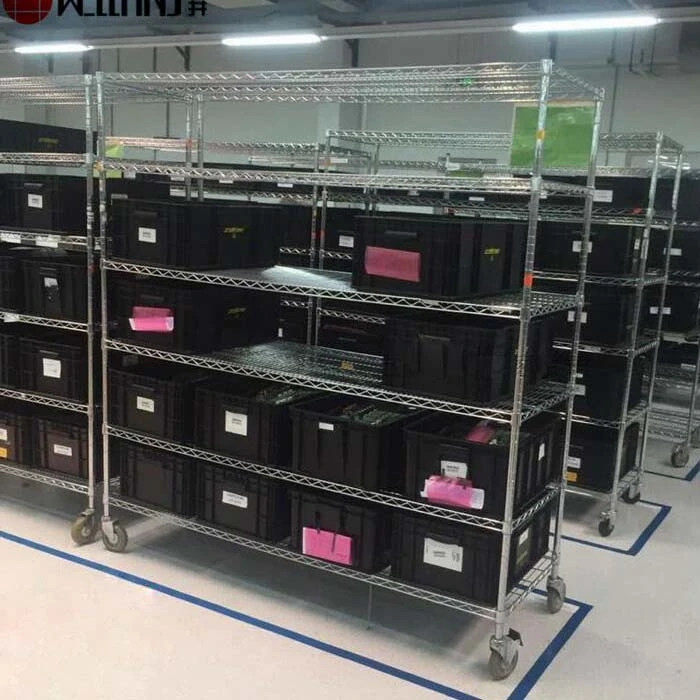 The role of wire shelving system in warehouse storage
1. The warehouse storage wire shelving has a large loading capacity, is not easy to deform, has adjustable shelf height, and is easy to disassemble and assemble.

2. The three-dimensional structure can make full use of warehouse space, improve the utilization rate of warehouse capacity, and expand warehouse storage capacity;

3. The goods are easy to access, can achieve first-in first-out, 100% selection ability, and smooth inventory turnover;

4. The goods on the warehouse shelves are clear at a glance, which is convenient for important management tasks such as inventory, division and measurement;

5. To meet the storage and centralized management needs of large quantities of goods and a wide variety of goods, and  open design is not easy to dust buildup

6. The goods stored in the multilayer wire shelving system do not squeeze each other, and the material loss is small, which can completely guarantee the function of the material itself and reduce the possible loss of the goods in the storage process;

7. To ensure the quality of stored goods, In order to prevent moisture, you can choose a shelf with powder coating on the surface, which is suitable for use in a humid environment and is not easy to rust to improve the quality of material storage;

8. Meet the management needs of modern enterprises' low-cost, low-loss, high-efficiency logistics supply chain.