Share Cross-Border E-commerce 5-Layer Chrome Plated Wire Shelf with wheels
2021-08-28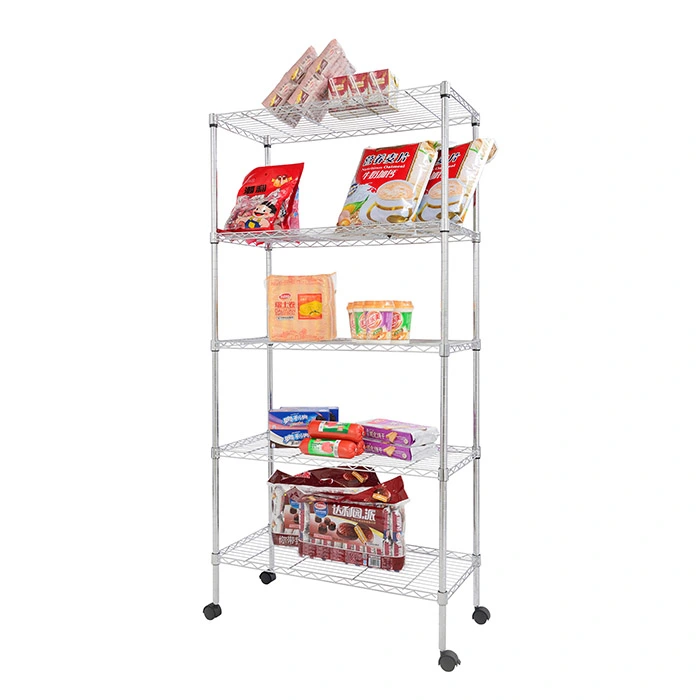 Share cross-border e-commerce 5-layer chrome plated wire shelf with wheels
According to the purchase records of our company's cross-border e-commerce customers and our factory's export sales experience in recent years, let's share with you our latest e-commerce customer's explosive mobile five-layer chrome-plated shelf pulley for everyone. This product is mainly used It is used in home kitchens or living rooms and other household places, and is sold well in Europe, America and Asia.
The following is the product picture (model: CJ-B1018 / CJ-B1018R)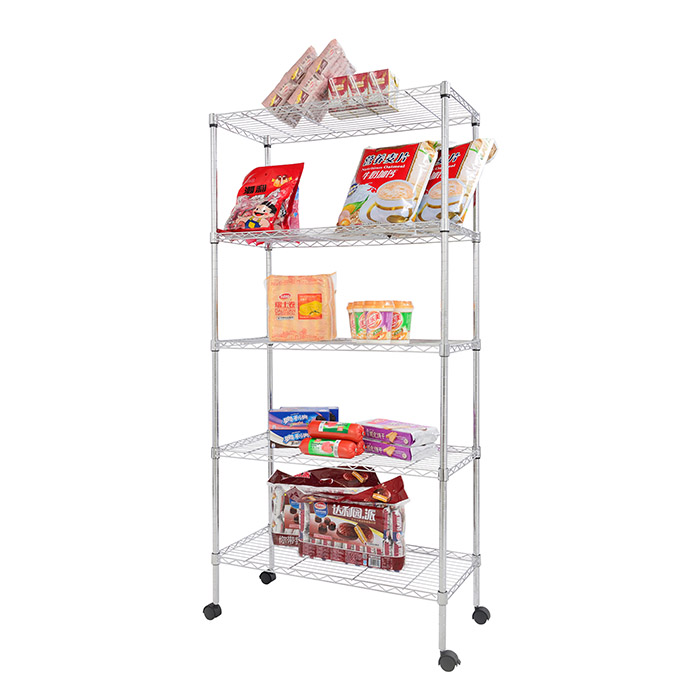 Product name: Five-layer chrome plated wire shelf with wheels
Size: L750×W350×H1550mm (including wheel height);
Post dia.,: 19x1.0mmT;
Wire dia.,: 25mm;
Surface finish: Chrome plating
The components of the complete product include: 5 pcs wire shelves + 4 two-stage post + 40 pcs plastic clips + 1 set of 1.5'' nylon wheels.
Features:
1. The chrome plated wire shelf has a steering wheel for easy and free movement, which is specially designed for the needs of household consumers.
2. After the surface of the wire shelf is treated with high-quality chrome plated, it has a strong anti-rust ability, and it will not rust after long-term use in a humid environment, which meets the ideal requirements of consumers for product use.
3. The chrome wire shelf is composed of all DIY parts. It is extremely easy and convenient to install and disassemble. The mesh frame uses a wave line mechanical structure, which has a good load-bearing capacity (the load-bearing capacity can reach 30kg/layer), which is very suitable for household items.
4. The wire shelf design is modern, simple and stylish, with exquisite appearance, firm structure, and high quality, which are favored and recognized by consumers.
5. The wire shelf uses an ideal design for the length of the segmented pillars. All pillars can be put into the mesh during packaging to reduce the packaging volume, thereby reducing transportation costs. This is also an important key for e-commerce customers to purchase products. Is the priority factor.
The following is the detailed contact information of our factory (Chuanjing brand racks), please feel free to contact us to learn more about our latest product information and the latest developments of the factory:
Factory Name: Zhongshan Changsheng Metal Products Co., Ltd.
Address: East of Tongan Avenue, Dongfeng Town, Zhongshan City, Guangdong Province
Phone: 0760-2263 1160
Fax: 0760-2263 1203
Email: enquiry@cs-cj.com
Website: www.cs-cj.com