Modern Metal Washing Machine Shelf with Wire Basket
author: lucky
2022-08-10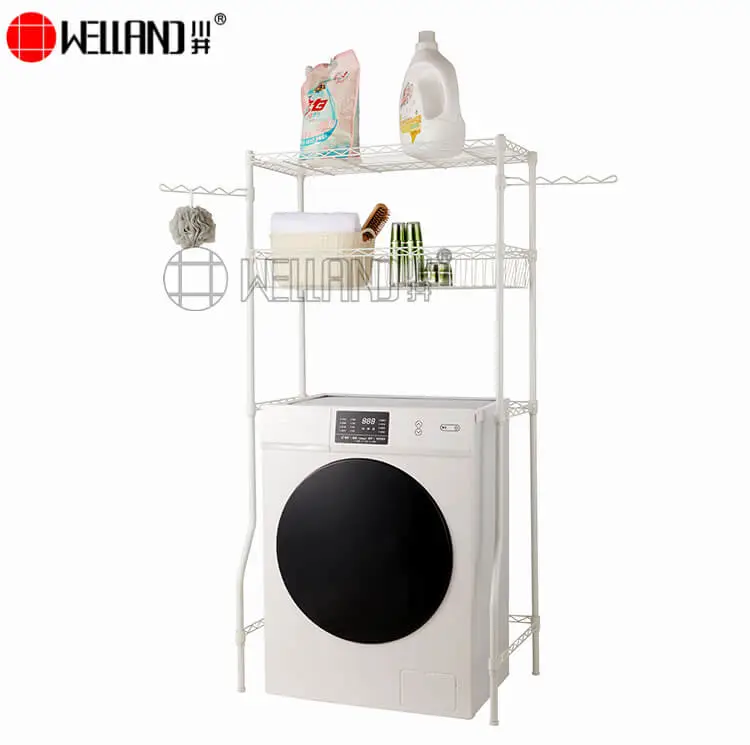 Modern 2 tiers metal washing machine shelf with wire basket and hooks
Worried about a messy bathroom? - Bathrooms are part of the home. Don't let the floppy mess up your day's mood. WELLAND 2-tier metal
washing machine shelf
that gives you more space to hold all your bathroom essentials like towels, rolls, magazines, shampoo, body wash, etc. You don't need to waste precious storage space, use this rack to keep your washing machine make use of the small space above. And when you walk into the bathroom, it looks neat.
The open design is different from other similar products and uses ventilation wire shelves to keep items dry and tidy. The shelf height adjustable designs at the bottom of the bracket make the washing machine shelf more suitable for toilet inlet pipes of different heights. And it's durable enough to fit most washing machine sizes.
And many more available colours - to perfectly match any bathroom decor - to decorate your private bathroom space.
Simple, fun and easy to assemble, the bathroom organizer can be installed in under 30 minutes. Clear and simple instructions so you don't waste time! Also make your bathroom look more organized and spacious!