How To Maintain A Metal Clothes Wardrobe
2021-02-23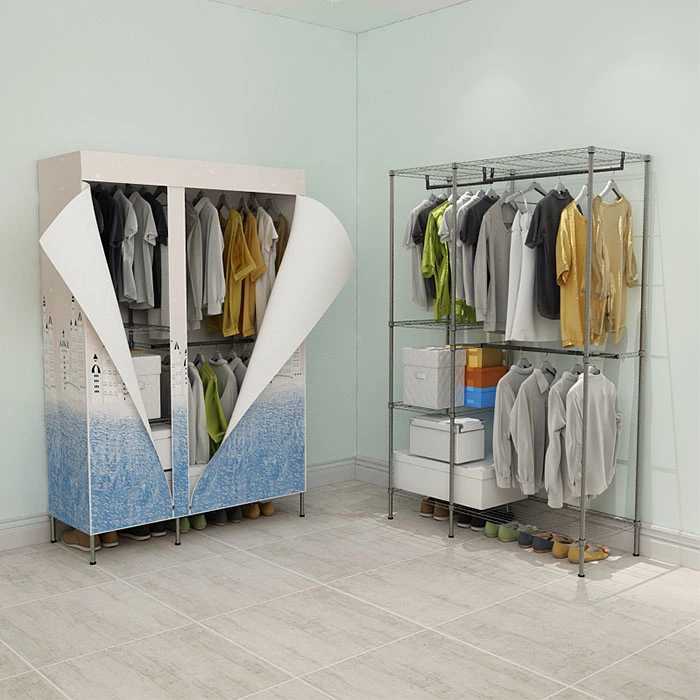 How to maintain a metal clothes wardrobe?
Metal wardrobes on the general market are all selected steel structures, which have strong durability and bearing capacity. Although manufacturers will choose high-quality frames and cloth covers in order to ensure the quality of the products during the production process, they are in use The effect of maintenance methods on quality during the process is also very important.
1. Use a correct cloth cover. The choice of cloth cover for simple metal wardrobe has a great influence on the quality of the whole cloth wardrobe. Canvas is the best choice for cloth cover for metal wardrobe, followed by Oxford cloth and Polycotton.
2. For the metal structure of the closet, please keep away from acid and alkali during the placement process to prevent the steel frame from being corroded and damaged. If the metal structure of the cloth closet is accidentally stained with acid or alkali, you should immediately rinse the dirt with clean water , And then wipe dry with a dry cotton cloth. Keep the wardrobe away from direct sunlight.
3. The humidity in the room where the wardrobe is placed should be maintained within the normal value. Too wet will cause the metal to corrode. If the metal structure of the wardrobe is rusty, don't use sandpaper on your own terms. If the rust is small and shallow, you can apply cotton yarn dipped in engine oil to the rust. Wait for a while and wipe it with a cloth to remove the rust. If the rust has been enlarged and heavier, you should ask the relevant technicians to repair it.
4. When cleaning the metal wardrobe, wipe it with a slightly moistened cleaning cloth.