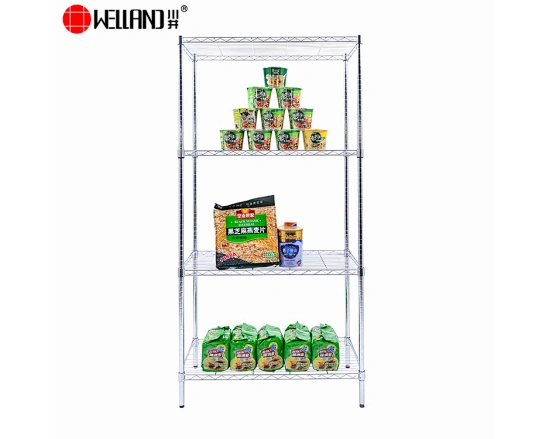 Support léger de stockage de fil d'acier au chrome d'affichage de nourriture d'étagère de 4 étagères
Support de stockage de fil d'acier inoxydable chromé réglable de haute qualité à 4 étagères, fabricant de porcelaine, usine OEM et ODM depuis 1996.
Type: Étagères en fil
Espace applicable: affichage des aliments
Classification: Rack non pliable
Type d'installation: Type debout
Nombre de niveaux: quatre couches
Utilisation: Divers
Matériel: métal
Style: réglable
Caractéristique: respectueux de l'environnement
Poids de chargement: 120 kg par étagère
Lieu d'origine: CN; GUA
Nom de marque: WELLAND
Numéro du modèle: LD9045180A4
| | |
| --- | --- |
| Article | Light Duty 4 Shelf Food Display Chrome Steel Wire Storage Rack |
| Item No | LD9045180A4C |
| Dimension | 900X450XH1800mm |
| Main Material | Carbon steel |
| Tube Dia | 25x1.0mmt |
| Wire Gap | 30mm |
| Certificate | SGS,NSF |
| Surface Finish | Chrome Plated Finish |
| Salty & Spray Testing | 24 hours |
| Loading Weight | 120kgs |
| Outer Packing | 1 Set / Brown Box |
| Carton Dimensions | 91x46x17.5cm |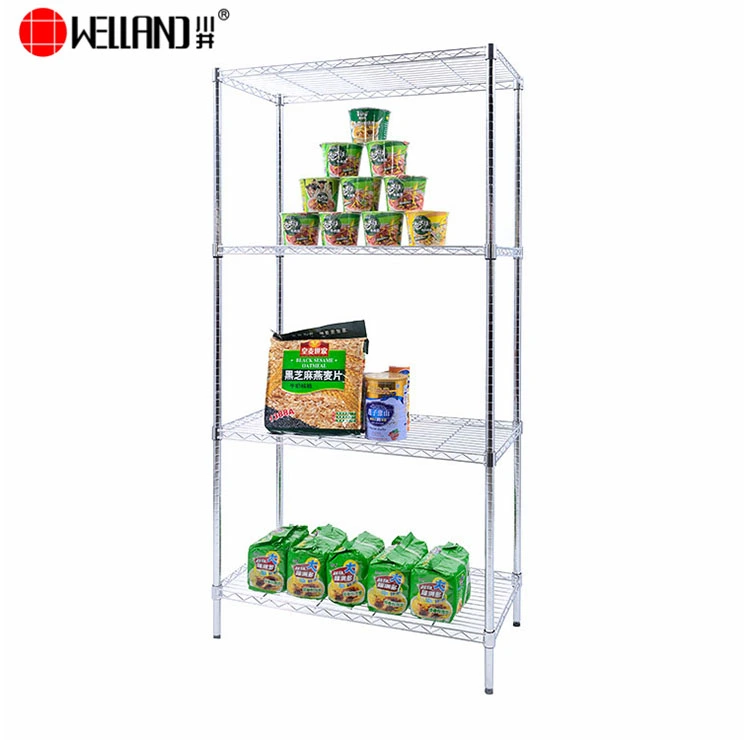 Hot Size
CHROME

EPOXY BLACK

ZINC PLATED + EPOXY COATED

STAINLESS STEEL #201 I STAINLESS STEEL #304

PRODUCT NAME

PRODUCT SIZE

SHELF LAYERS

LOADING WEIGHT OF EACH SHELF

ITEM NO.

ITEM NO.

ITEM NO.

ITEM NO.

ITEM NO.

CHROME

EPOXY BLACK

ZINC+EPOXY GREEN

# 201 STAINLESS

# 304 STAINLESS

4 Tiers Strengthened Heavy Duty Wire Shelving (HOT SIZE LIST)

18"x36"xH72"

4

350KG / 800LBS

HD183672A4C

HD183672A4E-BK

HD183672A4ZG

HD183672A4SS1

HD183672A4SS4

18"x48"xH72"

4

350KG / 800LBS

HD184872A4C

HD184872A4E-BK

HD184872A4ZG

HD184872A4SS1

HD184872A4SS4

18"x60"xH72"

4

300KG / 600LBS

HD186072A4C

HD186072A4E-BK

HD186072A4ZG

HD186072A4SS1

HD186072A4SS4

18"x72"xH72"

4

300KG / 600LBS

HD187272A4C

HD187272A4E-BK

HD187272A4ZG

HD187272A4SS1

HD187272A4SS4

24"x36"xH72"

4

350KG / 800LBS

HD243672A4C

HD243672A4E-BK

HD243672A4ZG

HD243672A4SS1

HD243672A4SS4

24"x48"xH72"

4

350KG / 800LBS

HD244872A4C

HD244872A4E-BK

HD244872A4ZG

HD244872A4SS1

HD244872A4SS4

24"x60"xH72"

4

300KG / 600LBS

HD246072A4C

HD246072A4E-BK

HD246072A4ZG

HD246072A4SS1

HD246072A4SS4

24"x72"xH72"

4

300KG / 600LBS

HD247272A4C

HD247272A4E-BK

HD247272A4ZG

HD247272A4SS1

HD247272A4SS4

4 Tiers Ordinary Heavy Duty Wire Shelving (HOT SIZE LIST)

900x450xH1800

4

250KG / 500LBS

CJ9045180A4C

CJ9045180A4E-BK

CJ9045180A4ZG

CJ9045180A4SS1

CJ9045180A4SS4

1200x450xH1800

4

250KG / 500LBS

CJ12045180A4C

CJ12045180A4E-BK

CJ12045180A4ZG

CJ12045180A4SS1

CJ12045180A4SS4

1500x450xH1800

4

200KG / 440LBS

CJ15045180A4C

CJ15045180A4E-BK

CJ15045180A4ZG

CJ15045180A4SS1

CJ15045180A4SS4

1800x450xH1800

4

200KG / 440LBS

CJ18045180A4C

CJ18045180A4E-BK

CJ18045180A4ZG

CJ18045180A4SS1

CJ18045180A4SS4

900x600xH1800

4

250KG / 500LBS

CJ9060180A4C

CJ9060180A4E-BK

CJ9060180A4ZG

CJ9060180A4SS1

CJ9060180A4SS4

1200x600xH1800

4

250KG / 500LBS

CJ12060180A4C

CJ12060180A4E-BK

CJ12060180A4ZG

CJ12060180A4SS1

CJ12060180A4SS4

1500x600xH1800

4

200KG / 440LBS

CJ15060180A4C

CJ15060180A4E-BK

CJ15060180A4ZG

CJ15060180A4SS1

CJ15060180A4SS4

1800x600xH1800

4

200KG / 440LBS

CJ18060180A4C

CJ18060180A4E-BK

CJ18060180A4ZG

CJ18060180A4SS1

CJ18060180A4SS4
1, Does chrome plated wire shelving has better anti-rust capability? What kind of surface finish is better for wet environment use?
Answers: Our quality of chrome wire shelving is qualified as Japanese order standard, passed the salty and spray testing by SGS organization with result 24 hours 8 Grade . Generally ,chrome plated shelves is better for dry environment use ,while powder coating or zinc plated covered by epoxy finish is better for wet enviornment use .
2, What about your lead time of a container order
Answers :Generally30 days for first orderand25 days for repeat order if your order are our catalog items. The delivery time of customized items shall be re-evaluate by your design.
3, What's your advantage in the same trade of wire shelving?
Answers : Stable high quality controlandadvanced production technology are our advantage in the same trade , besides, more than15 years manufacture experiences of wire shelving only increase our working efficiency and capability competition .
4, Can you make customized design wire shelves?
Answers : Of course yes ,we are professional of the manufacture on steel wire and round tube products . Welcome to send us new design drawings and OEM inquiry.
5, Can you design packing way for clients?
Answers : Yes ,we can offer the designs of brown box packing way and color box artwork for clients's selection and revise the artwork design until received client's final confirmation.
6, If the stuffing of wire shelves is overloaded , will it be broken ?
Answers:No, if the overloading weight is not too much ,the shelf will still be in good condition . maybe the middle of shelf is a little bended.
7, What kind of testing will you do for these wire shelving racks?
Answers: Generally ,we would do salty & spray testing , coating thickness test, corrosion resistance test, loading capacity test, tension test, shelf center distance test and packing dropping test at our factory testing & inspection room
8,Will you offer free samples?
Answers: We would offer free samples 1 set for our oversea clients ,but express freight collection.
9, What is the MOQ ? How about the payment way ?
Answers:It is 50 sets per item . Our payment way is generally T/T 30% deposit, balance againstcopy shipping doc . or L/C at sight.
10, Where is your factory ? Can we visit it?
Answers:Our factory is situated in Zhongshan city of Guangdong Province ,around one and half hour driving distance far from Guangzhou airport. If you would like to visit our factory ,please feel free to contact us so that we can arrange a car to pick up you at any city of Guangdong province