Explosive Two-Layer Mini Wire Basket Kitchen Rack to Share
2021-10-16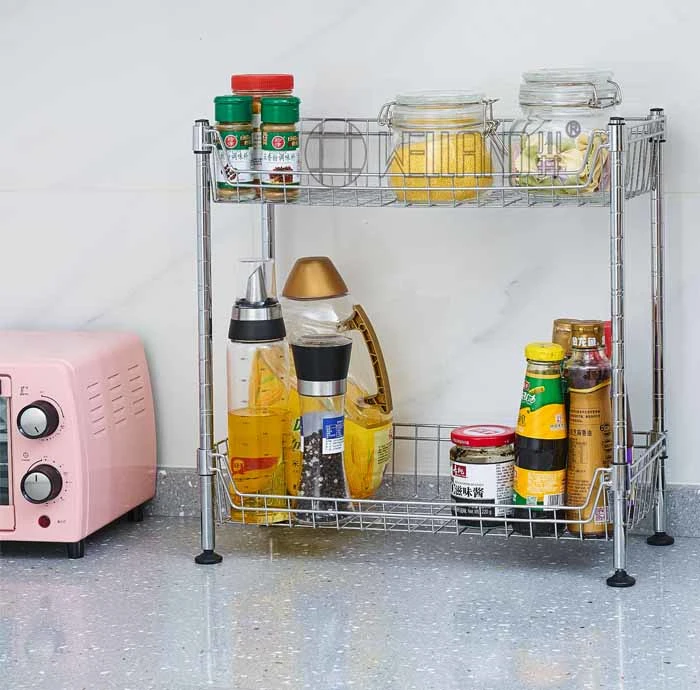 According to the recent export order data of our factory, I would like to share with you our latest hot-selling product in the Asian and South American markets-two-layer household mini wire basket kitchen rack. This product is mainly used in the family kitchen to store fruits, vegetables and meats or tableware.
Product name: Two-layer mini mesh basket kitchen rack
Size: L450×W200×H450mm
Surface treatment: Chrome plating
The components of the complete product include:
2 pieces of net basket+
4 one-segment pillars+
16 clips+
4 adjusting feet.
Features:
1. The wire basket kitchen rack configuration has a custom-made wire basket with appropriate depth, which can better place food or tableware, and is specially designed for the special needs of consumers in small families.
2. After the surface of the product is treated with high-quality chrome electroplating, it has a strong anti-rust ability, and it will not rust after long-term use in a humid environment, which meets the ideal requirements of consumers for product use.
3. The mini wire basket rack is composed of all DIY parts. It is extremely easy and convenient to install and disassemble. The mesh and basket frame use wave line mechanical structure, which has good load-bearing capacity (load-bearing capacity can reach 30kg/layer).
4. The kitchen wire basket rack design is modern, simple and stylish, with exquisite appearance, firm structure, and high quality, which are favored and recognized by consumers.
5. The mini wire basket rack uses pillars to achieve the ideal design. All pillars can be placed in the basket during packaging to reduce the packaging volume, thereby reducing transportation costs. The packaging pictures are attached below for customers' reference and understanding: